Butlins Skegness Food #ButlinsAmbassadors
Post three of three (links at the bottom to the other posts)
There are a range of food options at Butlins from self catering to two different buffet dining options. As part of our review we were able to choose the premium buffet option. This entitled us to breakfast and our evening meal, as much as we wanted to eat and tea/coffee and juice at each meal.
The major benefit of buffet dining with small children is that they don't have to wait for food. It also means that they can choose whatever they like the look of and can mix and match their foods. Both C and LissyLou liked this concept.
On arrival we were allocated to the Deck restaurant but after eating there on the first night we were very unhappy with the food and layout of the restaurant.The website did say that you could choose where to eat your evening meal however upon arrival we found that this was pre-allocated and you could not switch between the two. We found that the setup of the Deck  restaurant and the way the food is laid out means you can end up a long way from the serving areas to your seat. This is tricky with small children trying to negotiate round other diners.
The setup meant that you also had to queue whilst things like burgers and chicken breasts were cooked for you. The first night Daddy Ramblings waited a long time for a chicken breast and then found it was so dry and overcooked that it was inedible, I wasn't impressed with the chilli I chose although the children managed to find something to eat but there was a huge queue for the Childrens section and the ice cream machines. We called into the Gold Reception Office to complain about the restaurant and to ask whether there were any other dining options we could consider. The lady was very helpful and advised us to try breakfast the next morning and go back if things hadn't improved. However, about 30 mins later she called to our accommodation to advise that she had arranged a transfer to the Yacht restaurant for the rest of our stay which she felt was better suited for us.
The Yacht Club restaurant was a completely different experience. It's significantly smaller and better laid out and this meant we could sit the children at the table and still see them if we went to get our meals. This also meant we stood more chance of eating together and meant that C could go and help himself because we could see him. The problem with buffet dining with small children is that you get their food first and then have to go and get your own (we felt this was safer anyway) and this meant that we all ate almost staggered rather than all at once.
The breakfast is fantastic including cereal, porridge, cooked breakfast, fruit, toast and pastries. We all loved the choice at breakfast and the quality of the food was good. The kids ate huge breakfasts each day and were able to choose different items each time.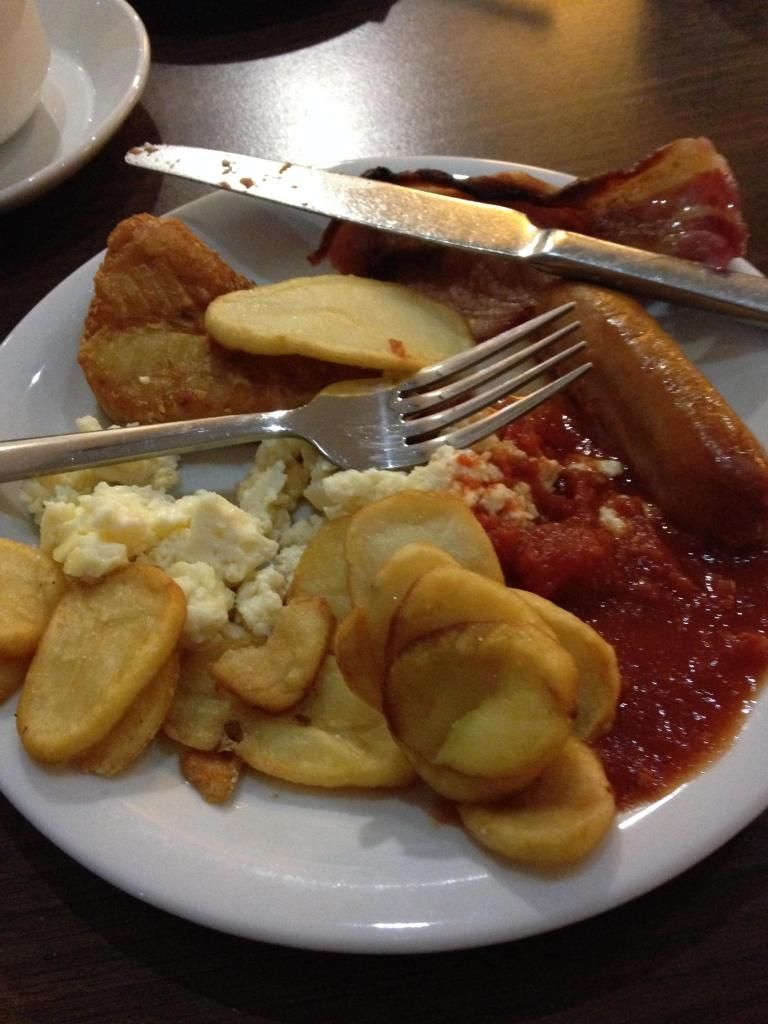 Evening meals offered a number of options with starters, carvery and a good choice of main meals. We liked the food in the Yacht Club restaurant and felt that the range of options was good and again the quality was good. There was also cold and hot desserts and ice cream. The kids were thrilled that they could help with the ice cream machine and choose their sauces. The staff cleaning plates and tables were very friendly and efficient, we liked how quickly they removed dirty plates and offered assistance.
We did enquire whether there was the option to upgrade our plan by paying extra to allow us to eat in a table service restaurant but sadly this wasn't something that they offered. We felt it might be nice to offer this at a supplement so that you could enjoy this at least one night of your stay. I would definitely have been bored of the buffet food if we had been there on a week long break.
We ate lunch at the Sun and Moon pub which offered good sandwiches and chips, perfect for a pit stop on our first afternoon and was reasonably priced. We also tried fish and chips from Rock and Sole which was good sized portions and nice fish and chips. We had coffees from the Soho Coffee House which were quite expensive and not amazing coffee but the customer service in there was fantastic, amazingly helpful staff and very friendly. We called into the Costa Coffee for a drink and a bun for the kids, which they loved, but the coffees took forever, they just seemed understaffed or over worked and it took over 15 minutes after ordering for two hot drinks, normally you expect for these to be made on the spot so it was strange to have to sit down whilst we waited.
There is a wide range of food options at Butlins Skegness but we felt that the buffet although convenient is not cheap at £24 per adult per day. We felt that other options on site offered variety and were not over priced in the main. I think you have to carefully weigh up the options to see which would be the best option for your family. I liked not having to cook but would have preferred to be able to eat in a proper restaurant for one evening meal.
This post is part of my #ButlinsAmbassadors series, we received a complimentary break for the purposes of this review, click the links below for the other posts.