Walkers Mighty Lights Crisps

I've always been a bit obsessed with crisps, delicious, salty, crunchy crisps. I've tried lots of different brands and types of crisps and one of the things that saddens me about crisps is the fat content. Why oh why can't they be fat and calorie free yet still taste amazing. I don't want those cardboard 'diet' crisps that taste of nothing and have no crunch So when the Walkers Mighty Lights Crisps arrived I was pleased to read this statement;
Walkers told us – "With 30% less fat than standard crisps, Walkers Mighty Lights are perfect for kids' lunchboxes. They are tasty, ridged crisps that come in three flavours – roast chicken, cheese and onion and lightly salted. All the flavours are suitable for vegetarians, and are available in shops nationwide. They're made from real potatoes with no artificial colours of preservatives- and they're a source of fibre."
What did I think of Walkers Mighty Lights?
Ok, ok, so they aren't the fully perfect solution that I've been dreaming of but they are lower in fat and still offer a good flavour and crunch. The kids who normally wouldn't go for normal crisps because they prefer things like Quavers have taken to the Walkers Mighty Lights with gusto, digging in the moment they arrived and both enjoying them. The ridged shape gave extra crunch and made them a bit interesting, I think if they weren't ridged they would be too boring.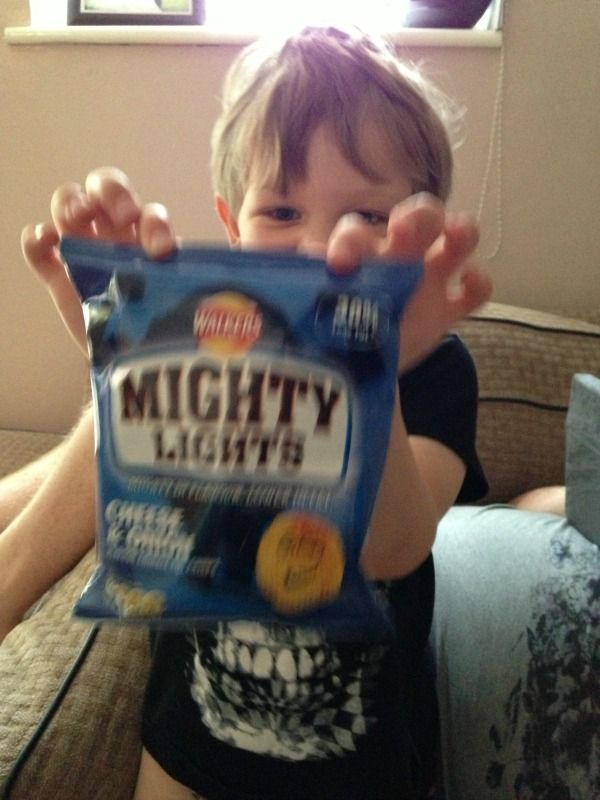 What did the kids think of Walkers Mighty Lights
LissyLou loved the lightly salted ones, especially because of the little potato man on the front of the packet.  She decided he must be called Mighty and that she loved him! In fact she loved him so much that we had to make our very own Mighty, who had to live in the dolls house for a few days! Here's a brief run down of his time in the house…
C enjoyed the roast chicken and the cheese and onion ones, which has definitely surprised me because he has always turned his nose up at crisps is the past, particularly crisps that 'smell' of flavour. The lightly salted crisps were a bit strange in a way, not unpleasant but they did taste like a watered down version of a flavoured crisp, I couldn't quite put my finger on what the flavour was though.
The Walkers Mighty Lights do have plenty of flavour and that necessary crunch which means that I liked them too. I won't lie, they won't be my favourites but they do offer a lower fat option and would be great for lunchboxes due to them having no MSG and being a reasonably small packet.
The main thing is that they were a big hit with the kids and LissyLou fell in love with 'Mighty', we'll be buying the Walkers Mighty Lights again!
This is a sponsored review, thoughts all our own