Father's Day Gifts For Dad's Who Love The Outdoors
If your Dad loves the outdoors, or you would like to see him outside more often than the following gifts are perfect to encourage him to embrace his outdoors instinct and get adventurous!
Now it may be stereotypical but I don't know many men who don't like to assert their manliness by proudly showing off their BBQ lighting skills! This clever Flexible Necked lighter by Zippo is designed to make lighting the BBQ easy! It adjusts easily and can be used on gas or coal BBQ's and should help protect Dad's fingers when lighting the BBQ – no one can stop him from singeing him eyebrows or arm hairs, that's just part and parcel of the BBQ ritual! It's only £14.50 and it's available from the Zippo website
If he's a real outdoorsy type then the Emergency Fire Starter Kit from Zippo is really clever. It's not a lighter or matches so seriously no cheating allowed. It contains a good old-fashioned flint setup so that it will work as long as you have something dry to light, which is where the clever storage compartment comes into play. It has a small amount of dry tinder sticks which can be used to help get the fire started. Perfect for wet camping trips! It's £20.75 and it's available from the Zippo website
If your Dad is into running, biking or walking then this clever watch by Motorola will be a a really welcome addition to his kit. The MOTOACTV is sweat proof, waterproof and on a big comfy rubber strap which means it will be comfy to wear for exercise and looks pretty cool too.  Allowing you to measure your heart rate, distance covered (via GPS) and much more it syncs wirelessly to your PC to track your sessions meaning you can measure progress and set goals via MOTOACTV.com As it's also an MP3 player and one of the best functions is  that it learns which songs help you perform the best so that it can suggest playlists of your best performing songs and it has a sort of boost button that you can press to play your most motivating tune if you need a boost of motivation – how cool is that?  It's not cheap at £249.99 but for serious sports lovers its a really cool bit of kit and because it's both the GPS unit and MP3 in one. Available from Evans Cycles, Sweatshop and Amazon.
When Dad get's back from all that outdoors activity make sure he smells great and gets rid of all the dirt with this range of shower gels from Radox, priced at around £2 they are perfect for everyday use and in a selection of great fragrances they are hitting the nail on the head for price and useability. We liked the strong orange and tea tree fragrance and found it wafted through the entire house, making it feel like you were in a orange grove somewhere sunny – you can hope right? The only critisism Daddy Ramblings had was that either it was a bit runny or it needed a different nozzle so that you didn't use as much as he felt like it went a bit to waste. The Deep Clean Scrub with Watermint and Sea Minerals smells great too but has the added benefit of scrubbing particles which make your skin feel really clean. Daddy Ramblings liked them so much he has said he will buy them again when they run out! It's lucky that they are available from all major supermarkets and Boots then isn't it?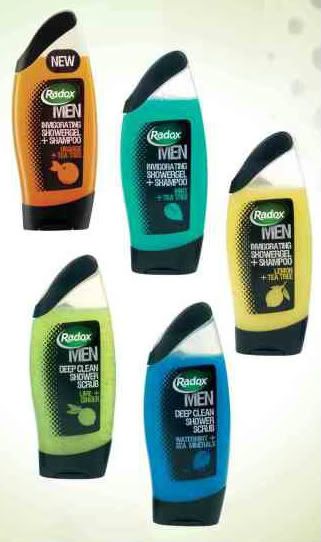 There you are some great Father's Day Gifts For Dad's Who Love The Outdoors!