Grilled Strawberry Crunch
You know summer is here when strawberries start to taste like strawberries! Strawberries are very popular in this household, we go through them faster than biscuits and that's saying something!
I discovered this recipe for strawnberry crunch last year and it's one of those recipes that can be changed in so many ways to suit individual tastes so here is your starter for 10!
What you need:
24 strawberries
2tblsp maple syrup
2tblsp Pimms or apple/grape juice
2tblsp sugar
8 choc chip shortbread biscuits
Ice cream to serve
How to make it:
– Chop the strawberries, and arrange in baking dishes (I do mine individually to stop them going cold as you serve, but get a bigger dish and helpers to serve everyone at once!)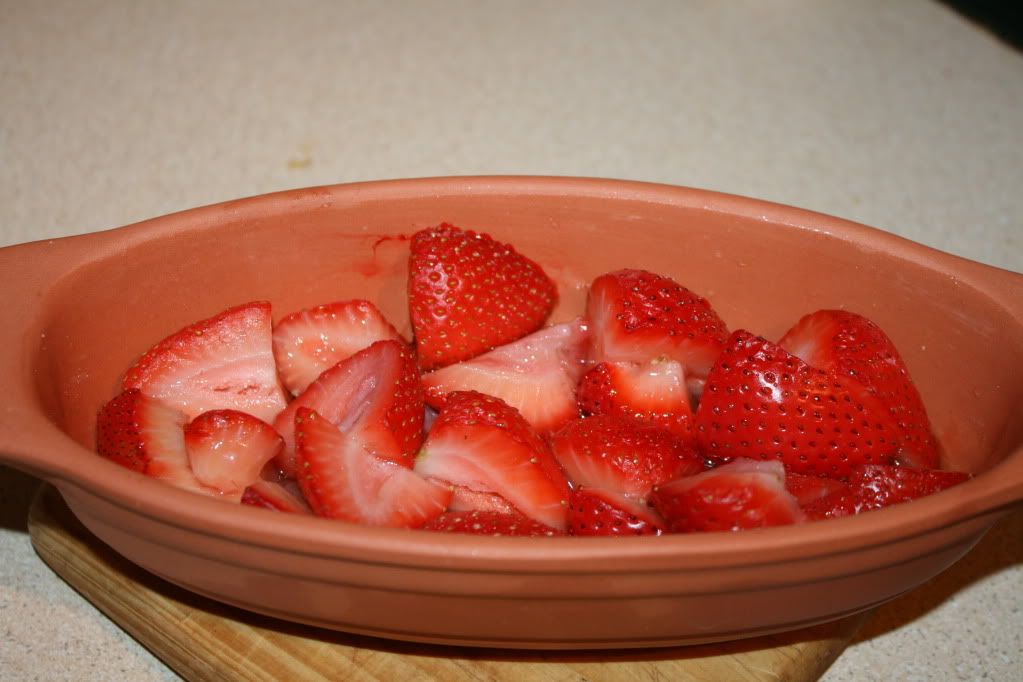 – Mix the maple syrup, pimms (or fruit juice) and pour over the strawberries
– Sprinkle the sugar over the top
– Grill under a hot grill for around 4minutes or until softened and sticky
– While the strawberries are cooking, smash the biscuits into a crumbly mess (I like to pop them in a bag and bash the hell out of them with a rolling pin)
– Put the strawberries in bowls, drizzle with the juice from the bottom of the baking dish, add a scoop of good vanilla ice cream and top with the crumbled biscuits
Adapt to suit bigger or smaller appetites, it's delicious with added banana or blueberries. I had mine with low fat passionfruit yoghurt for a lighter healthier option and it was still tasty.
It might not be Heston Bluemanthal's Strawberry Crunch, but it's pretty brilliant!