What I'm Wearing for Cybher 2012
What to where for Cybher has been a hot topic of conversation across the blogosphere for a week or two now and I have to admit I might have been having a mini panic over what to wear.
I've never been to a blogging conference before so I didn't know if there was some sort of secret, or even not so secret dress code that I should adhere to. Sian's, the brains behind Cybher, advice was to wear whatever you feel comfortable in so here is my current outfit for Cybher. I say current because I'm fickle and I could change my mind between now and then!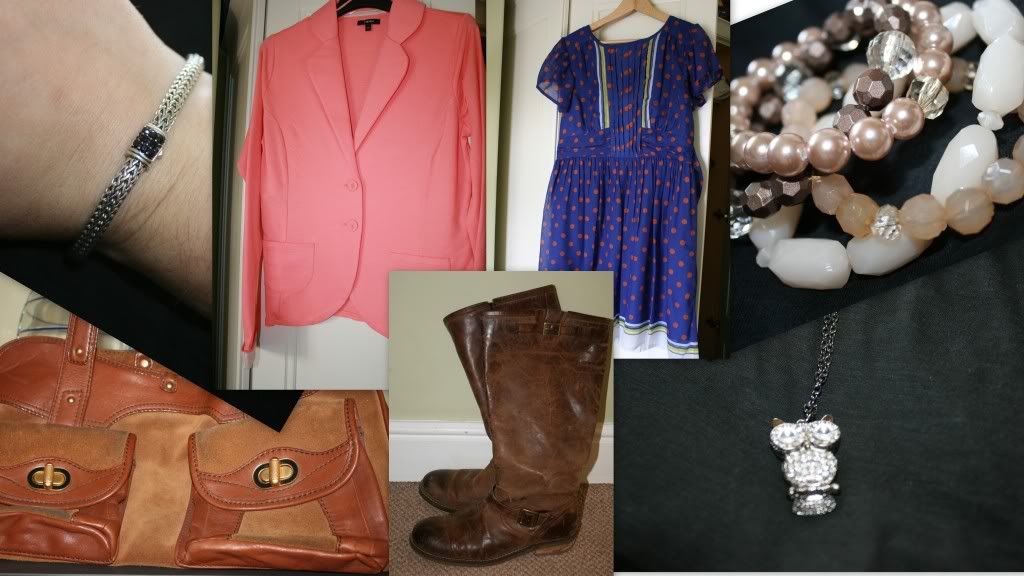 So we have from L to R and top to bottom:
1. My favourite bracelet in the world. I bought this with the money I received for my 30th birthday from Las Vegas, it's by John Hardy and a very prized possession
2. Coral Blazer from Matalan, this is a lot brighter in the flesh and is a pretty bold choice for me. I'm not afraid of colour but wouldn't normally pick something this bright but for some reason it spoke to me and I just had to have it
3. Tea Dress from the Be Beau range at Matalan. I love printed dresses and I was drawn to this one because I liked the contrasting colours
4. Selection of bracelets from Next, just for a bit of co-ordinating accessories as they go nicely with the dress
5. The Billy Bag my husband bought me for Christmas a few years ago, he chose this all by himself and I LOVE it!
6. Ye Olde Faithfuls. These boots are a staple item in my wardrobe, they go with so many different items, are comfier than any other footwear I own and they are just pretty cool
7. My favourite necklace, just to add a little bling.
So there you have it, my Cybher outfit. Let's just say that if you want to meet me you won't be able to miss me in that Blazer! If you are heading to Cybher, say hi and take a look at other outfit posts here