Village Feta
Village Feta is one of my all time favourite vegetarian dishes. You can cram it full of lovely vegetables and it is full of flavour. It's quick and easy too.
I first tried this at a lovely little Greek restaurant and I have adapted it slightly over the years to get to where it is today. It's one of those great dishes that you can personalise really easily and I tend to make it at the end of the week to use up vegetables.
You can easily increase the quantities for a main course or the recipe below will serve 2 as a main.
Play around with the ingredients to find your perfect balance. All amounts are approximate and you really can't go wrong with this dish!
What you need to feed 4 people as a starter:
1 large red onion
2 sweet red peppers
4 vine tomatoes
20 cherry/baby plum tomatoes
2 handfuls of green beans
2 handfuls of mange tout
1 handful of baby sweetcorn
1 handful of chopped celery
15 queen olives (optional)
200g Feta cheese
1 packet of Schwartz Mediterranean Roasted Veg Mix (if you can't get hold of this then use 2tsp parika, 2tsp garlic powder, 2tsp dried basil, 2tsp dried rosemary, salt and pepper)
1tsp dried chilli flakes
3 tblsp of pesto
How to make Village Feta
- Chop the peppers, tomatoes, cherry tomatoes, green beans, mange tout and baby sweetcorn into approx 2inch pieces and finely slice the red onion
- Chop 150g of feta cheese and mix in with the vegetables (and olives if applicable)
- Add the Schwartx mix and chilli flakes (or herbs and spices) and pesto into the veg mix and mix well, leave to marinade for as long as you can, ideally at least an hour
- Chop the rest of the feta
- Put the mix into an oven dish and sprinkle the remaining feta over the top of the vegetables (optional: drizzle the top with a little extra virgin olive oil) and bake at 200C for 30mins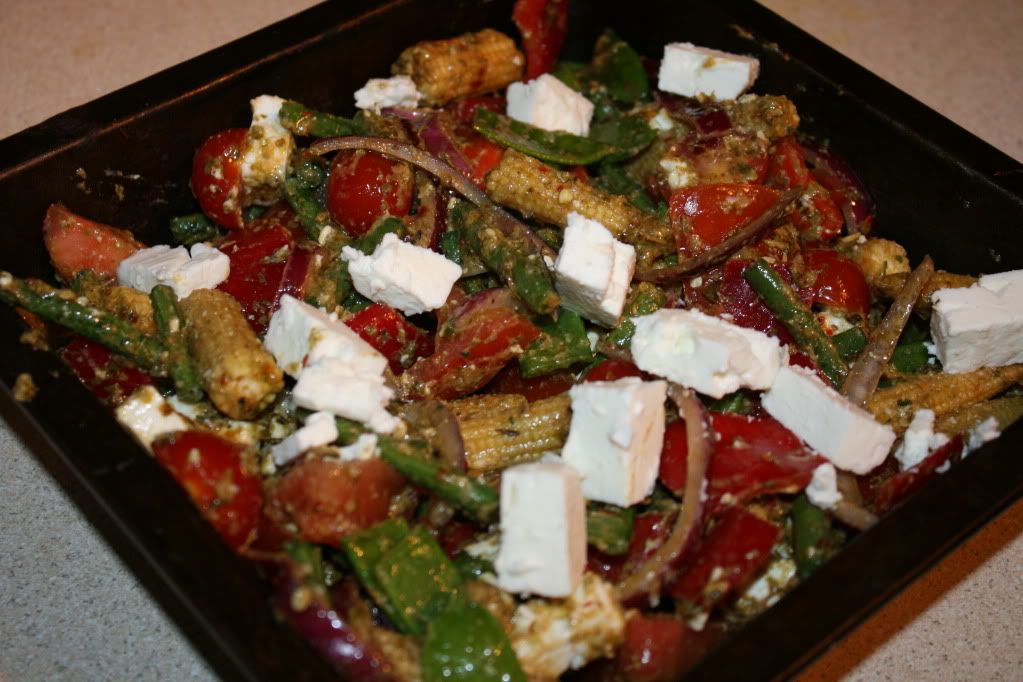 - Serve with a selection of breads, I think pitta breads and ciabatta work particularly well but any bread that helps mop up the lovely juices is good!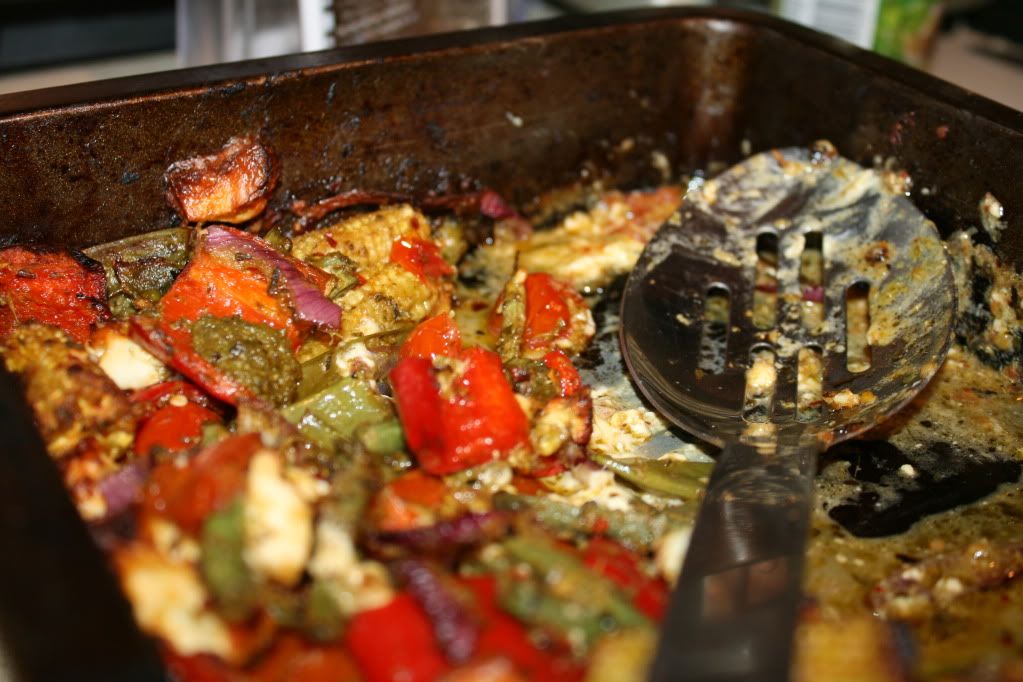 To make the Village Feta look prettier if you were serving for a dinner party or similar then bake in individual oven dishes and serve straight to the table in the pots.
I'm submitting this post to the Veggie Recipes section on Knees Up Mother Brown.