Tea and Cake!
It's no secret I love tea and cake! Tea and cake are a staple part of British diets, whether you like English Breakfast, Earl Grey or something else we drink around 165,000,000 cups of the stuff every single day here in the UK! That's a lot of tea, I probably do my fair bit to help those figures!
I'm no stranger to a good cup of tea, or a good slice of cake for that matter, but truth be told I am fussy about both! My favourite tea has to be Twinings Every Day, it does exactly what it says on the tin box! It's a really refreshing tea and makes a great strong cuppa without tasting bitter. It also makes the perfect tea for tea and cake! I love it with my Easy Apple Cake for a great afternoon snack. The Twinings Facebook Page often has great tea related facts and information about their teas to read while I enjoy my cuppa too, I spotted a post the other day about amazing Wedgewood china; perfect for afternoon tea and I have been dreaming of it ever since, its beautiful, covered in such a pretty cuckoo pattern,
I've been looking at some great new cake recipes to have with a cuppa and discovered a fab recipe for tea time scones that looks delicious. I adapted the recipe slightly so here is my recipe for scones, I added raisins because I love raisin scones but you could keep them plain or add cherrys or other dried fruits for a different twist. Makes a bit of a change to the traditional tea and cake but of course would make a welcome addition to afternoon tea!
Fruit Scones:
What you need:
225g Self Raising Flour
1tsp Baking Powder
40g Butter (room temperature)
1tbsp Caster Sugar
100g Raisins
Pinch of salt
150ml milk
– Start by pre heating the oven to 220°C/Gas Mark 7
– Sieve the flour and baking powder into a large bowl, rub in the butter until it looks like fine breadcrumbs
– Add the sugar and the salt and mix well. Add the raisins and stir. Add the milk a little at a time, stirring carefully as you go and making sure that the mixture is mixed well (and the raisins are fairly evenly mixed) and comes together to form a dough
– Sprinkle your work surface and a rolling pin with flour, briefly knead and then roll/press the dough out until it is about 3cm thick. Use a pastry cutter to create a great scone shape. Try to use all the dough (you could make some cute little bitesize scones if you don't have enough left for a full one at the end!), you will end up with around 8 scones depending on the size of your cutter.
– Place your scones of a greased baking tray making sure to leave gaps to allow them to grow!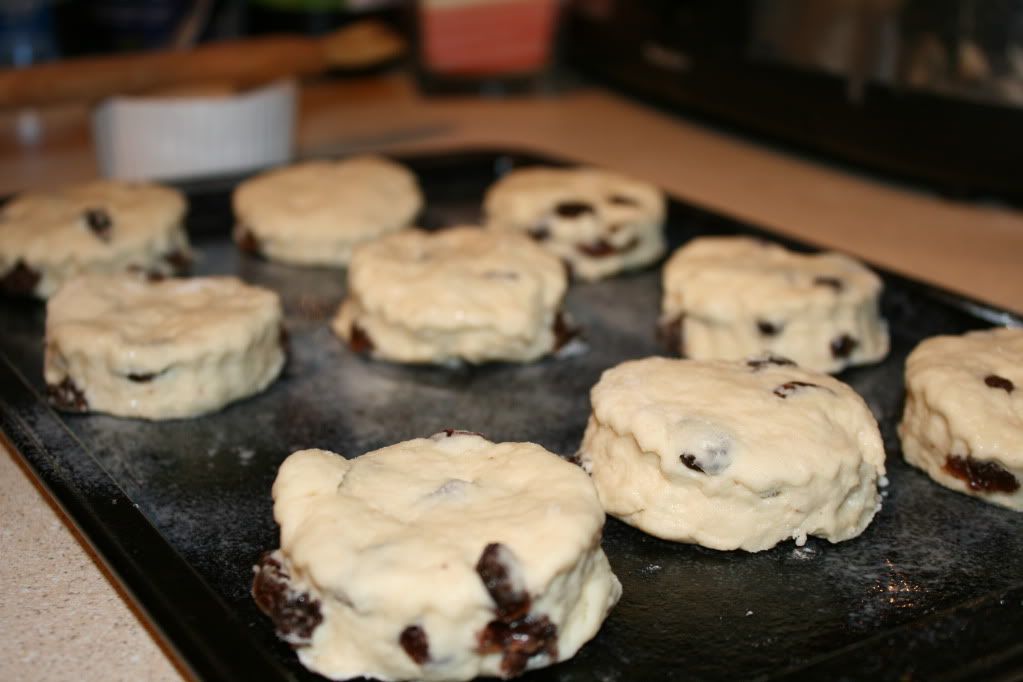 -Brush the tops of the scones with a little milk and bake for around 8-10 minutes until they have risen and are golden brown. Place them on a wire rack to cool or eat them quite quickly if like me you like them warm!
– Serve with good quality butter, jam and if you are feeling particularly decadent some clotted or whipped cream!
I'm picturing those scones with delicate finger sandwiches and slices of scrummy cakes in an attempt to rival afternoon tea at the Ritz. Well it would certainly be cheaper and if you had it at home no one would mind if you didn't raise your pinkie!
I also wanted to find a recipe that goes well with green tea but find it harder to pair with cakes due to its distinct taste, although given the new range of flavoured green teas it is somewhat easier. I found no shortage of great cake recipes and will have to have a try at some of them soon, I'm making little lists at the moment of all the great recipes I want to try!
Do you have a thing for tea and cake? What's your favourite combo?