Frankie and Bennys Birstall
Turning up for lunch at 11.15 on a Saturday we weren't sure if Frankie and Bennys would even be serving lunch yet so we were pleased to be reassured that they were serving lunch and still serving breakfast so we could choose from either menu, which I thought was quite clever.
C was invited to help himself to a colouring pack from the trunk so he was happy to go and sit down knowing he had something to do whilst we waited. I was very impressed with the highchair as it was a nifty little number that screwed to the table reducing the risk for LissyLou to be tripped over as often happens with normal highchairs in restaurants and keeping the aisles clear for everyone. It also allowed her to be part of the meal as she was sat up at the table with us more than she would have been in a regular highchair.
We ordered the food and drinks and the waitress asked if we would like the children's meals brought out with our starters which is something we normally ask for so it was nice for her to offer this instead of us asking.
The Frankie and Bennys children's menu for me was the best part of the whole experience with a wide choice of options separated into kids (£3.95 including main, dessert and drink) and juniors (£7.55 including main dessert and drink). We opted for a margherita pizza and the chicken strips for the children so that they could share both dishes. You can have an optional side of vegetables with any of the kids choices which is a very welcome addition for both the children who love their veggies. Both dishes were huge and the children really enjoyed sharing them!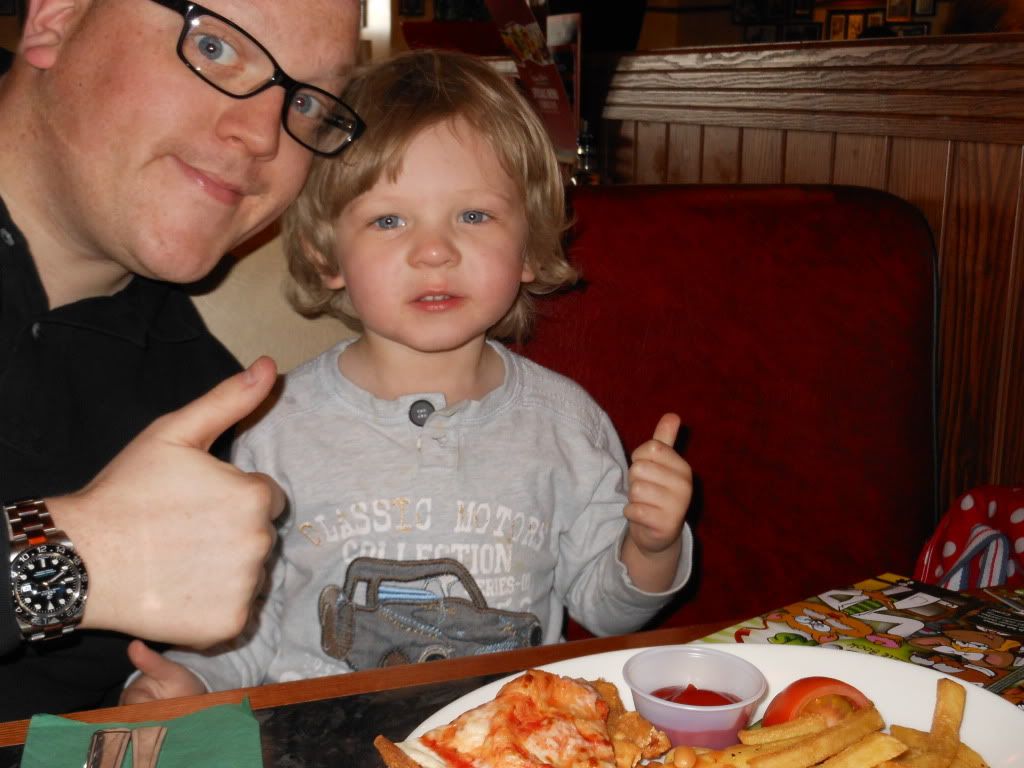 For starters I chose the Mozzarella and Tomatoes which came with dough balls and olives and was very tasty; the children stole most of my dough balls though! My husband chose Crispy Bacon Potato skins and thought they were tasty but a bit cold. We felt the starters were quite expensive at around £5 each.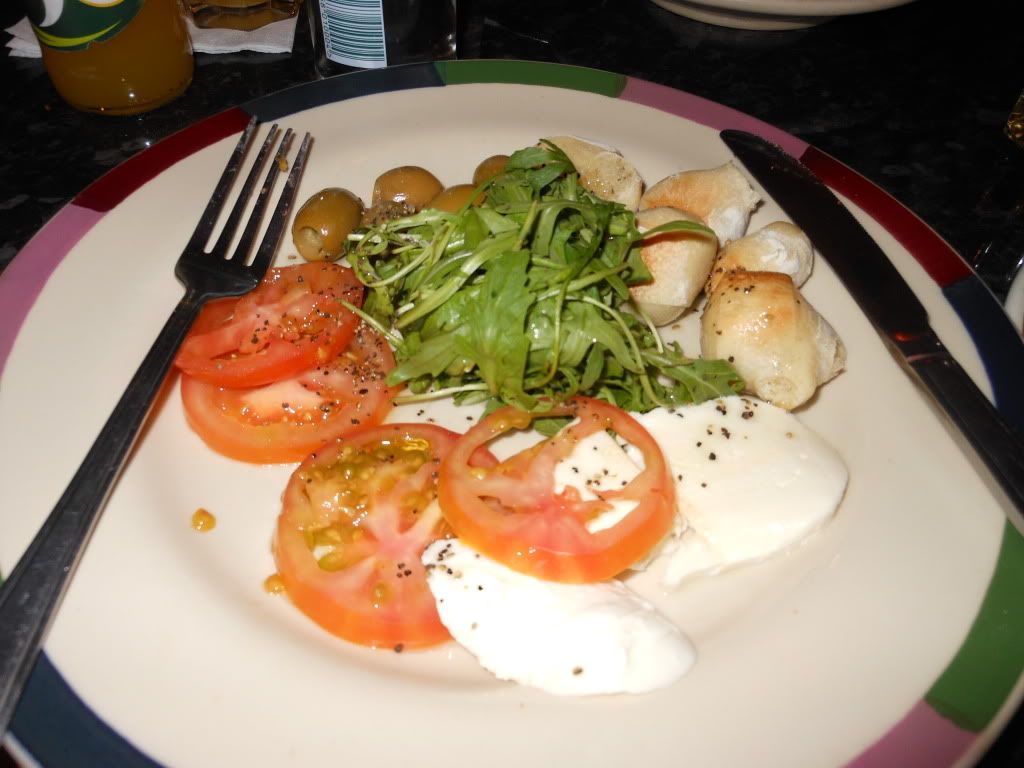 For main course I chose the Chicken Parmigiana, probably not the most imaginative choice but usually a fair indicator of the quality of the menu and a personal favourite! The chicken had a nice crispy coating and was topped with bacon and cheese. It could have done with a minute under a grill to melt the cheese properly and the tomato sauce on the pasta was a bit bland but overall it was quite tasty and I liked that you got pasta and chips! The corn on the cob was hideously overcooked though and very unappetising, even the children weren't interested in it!!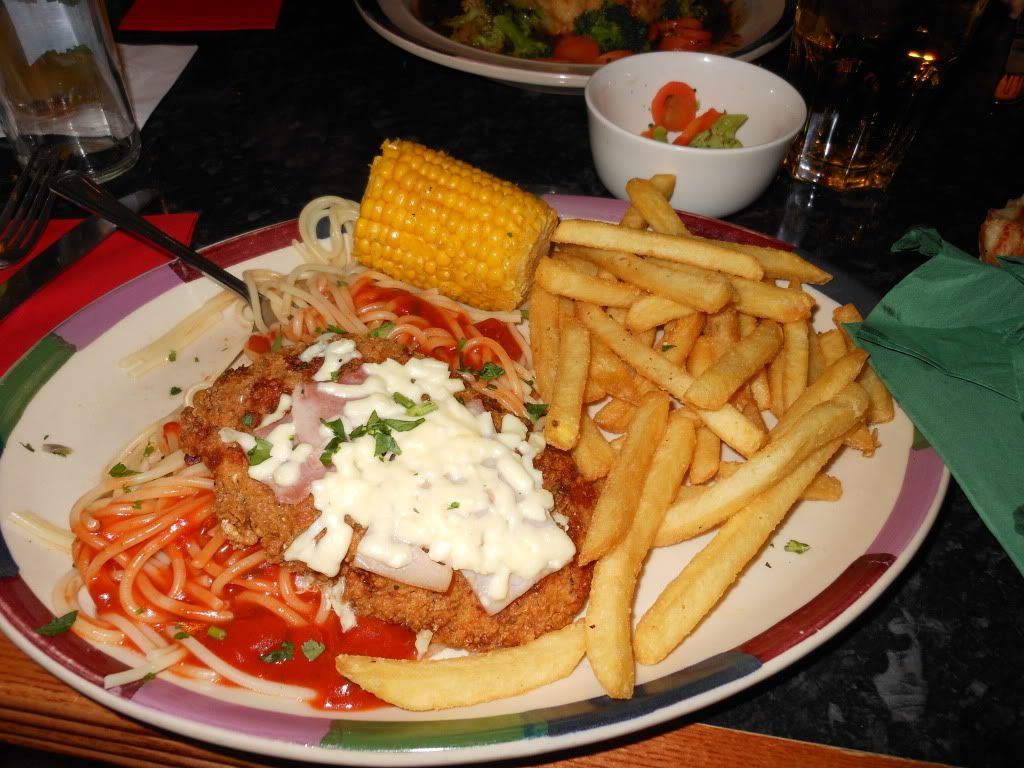 Hubby chose really well for main course and Sister Rosaria's Lamb Shank was very tasty and a good sized portion, the gravy was particularly flavoursome and the meat fell away from the bone.
For desserts the children had the brownies and ice cream (standard issue) and bananas and custard which came topped with chocolate covered rice krispie things and LissyLou really enjoyed that, the chocolate bits on top added a nice element to it. Hubby chose the Eli's Cheesecake which he deemed delicious and although I'm not a cheesecake fan it certainly looked it! I chose Brownies and ice cream, which was tasty but the brownies had been overheated and were a bit tough. I'm afraid I didn't get photos of the desserts because we just got stuck in and ate them.
The bill came to £59, which is expensive for lunch but we did have 3 courses. During the week they have a great lunch menu which starts at just £5.95 and looked to offer a good range of dishes. The breakfast menu (which we have tried recently too) is great value at £5 per dish (plus £1.50 for unlimited tea or coffee) and is well worth a try for large, good quality breakfast dishes.
Overall we had a nice lunch and we will return again for the children's meals and to try out that lunch menu!
Pop over to the website to get a voucher for £10 off your meal so that you can try the new menus too! Terms and conditions apply, please check their website for full information, expires 29th April 2012 so act quickly!
We received a voucher towards the cost of our meal but all opinions are our own!