Jenny Craig
Recently I have been trialling the Jenny Craig diet system. The Jenny Craig system involves a range of specially developed and calorie controlled meals and snacks that are delivered to your door and a personal consultant who calls weekly to discuss your progress.
You might have seen the incredibly annoying adverts on TV featuring Mel B telling her experience of the Jenny Craig programme. To be fair she is doing well on the system but seriously does she have to be that annoying? I'd love to see one of these adverts featuring a real person. Someone who is doing well on the system in real life, balancing the diet with a proper job, children, exercise etc. I'd actually love to see one of these adverts featuring a guy, why is it never a guy? That's why in a couple of weeks time you will see a guest post from my husband to find out about how the Jenny Craig system works for men! I wanted him to try it as I felt like this type of programme is designed for women and then just used by men – I'll see how he feels about that!
Anyway I digress, so the Jenny Craig system works by creating daily menu's for you. Every days calories are balanced to meet your needs. Mine were set to 1200 calories, the optimum calorie level for me to lose weight safely. You receive a menu plan that tells you which of the Jenny Craig foods to eat and what dairy, fruit and vegetables/salad to add to complete your days foods. I found this easy to understand and you can actually have a lot of food in the day so going hungry isn't something I have worried about. The Jenny Craig 'bible' is stacked full of useful information to help you understand food and your attitude to food and exercise so that you can maximise your potential to lose weight.
Each food item is labelled to tell you what meal it's for (breakfast, lunch or tea), so if you want to alter the menu plan to eat a different meal one day you can easily add up the calories to come up with your own menu. You can let Jenny Craig know if you have any allergies or preferences that they can try to work around. This was particularly beneficial when it comes to ordering again as if you haven't liked something then they will ensure you don't receive it again.
The food has been a pretty mixed bag for me. I found the breakfasts very uninspiring, they were ok, but that's all I can really say, none were better than that, none were worse. I'm sure that that's a matter of taste, but I personally prefer a bowl of Sultana Bran or Bran flakes and if you follow the guidelines on regular cereal packets you can easily check how much you should eat to get the same amount of calories.
The lunches are a mixture of soups (all very tasty), salads (the tuna salads were ok with a side salad but the Salmon salad was so disgusting that I took one bite and threw the lot away) and noodle style pots (they look like pot noodles but I didn't like them, if you like pot noodles then I guess they are ok). The soups were definitely my favourites, I could easily have those for lunch every day! With every lunch you can add a side salad and normally something else, this is often bread with the soups or similar. You get a list of appropriate items you can put with the Jenny Craig meals so you know exactly what things you could add without the breaking the diet.
Dinners in the most are very tasty. My favourite was probably the roast chicken dinner (chicken in gravy with mash). My least favourite had to be the Beef Tortellini which was again so disgusting I had to threw it away). Everything else was pretty good really, I liked the variety of the dishes and that everything only takes a couple of minutes to cook. Every evening meal can be served with vegetables to help fill you up and you get a list of great veggies you can serve that will not affect your calorie totals for the day.
You also get one Jenny Craig snack each day, which is either a cereal bar, chocolate biscuit or bag of crisps. The snacks are pretty good, I preferred the sweet snacks to the crisps but it was nice to have something that felt like a treat each day.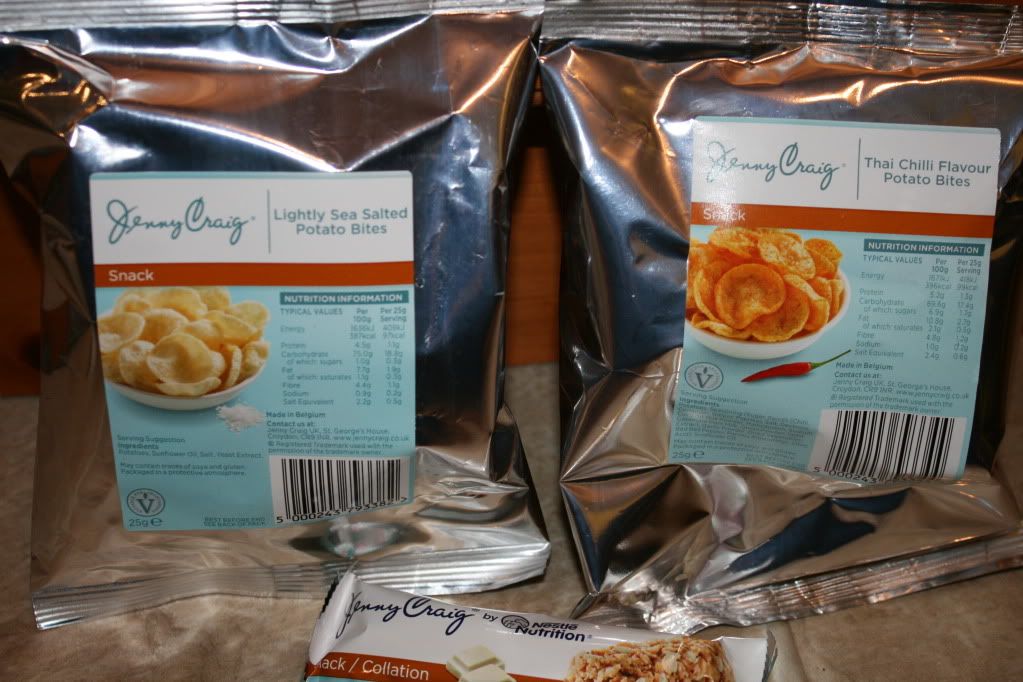 I was very impressed by the list of 'free foods' you can include in your diet. Things like sugar free jelly (a great snack item and cures those sweet cravings!) are fair game and you can eat it by the bucket load if you need to! I liked to have some in the fridge for desperate moments when I felt like caving and joining the kids in a biscuit!
Ok, so here comes the interesting bit. Over my two week trial of the Jenny Craig I lost 6lbs, the first week I exercised too but the 2nd week I couldn't because I hurt my back and could barely move. I think if I had managed to exercise too then I would probably have lost more. If I'm 100% honest I also didn't stick rigidly to the system in the 2nd week either because I was in so much pain I just ate what I could face! I still lost an inch from my chest, waist, abdomen, hips and thighs!
I like the fact that you get a personal telephone conversation with your Jenny Craig consultant each week. They help talk you through the system and discuss your progress, how much exercise you are doing and any areas you need assistance with. This might be helping you plan for a special occasion where you know you may not be able to stick to the programme (in my case that was LissyLou's birthday when I had chocolate birthday cake) or helping you to keep motivated if you are struggling.
My top tip for Jenny Craig would be to implement a system on their website that allows you to choose your food yourself to allow you greater control over the food you receive. I think if you could choose the balance of foods it would make it more interesting to more people and definitely more interesting to keep going on an ongoing basis!
If you fancy trying the Jenny Craig system then just call 0800 088 2048, new customers get a fantastic 50% discount off the system making it only £5.50 for all the food and your consultations for a two week period! Well worth giving it a go on this basis!
I received food and consultations from Jenny Craig in exchange for my honest review and feedback.